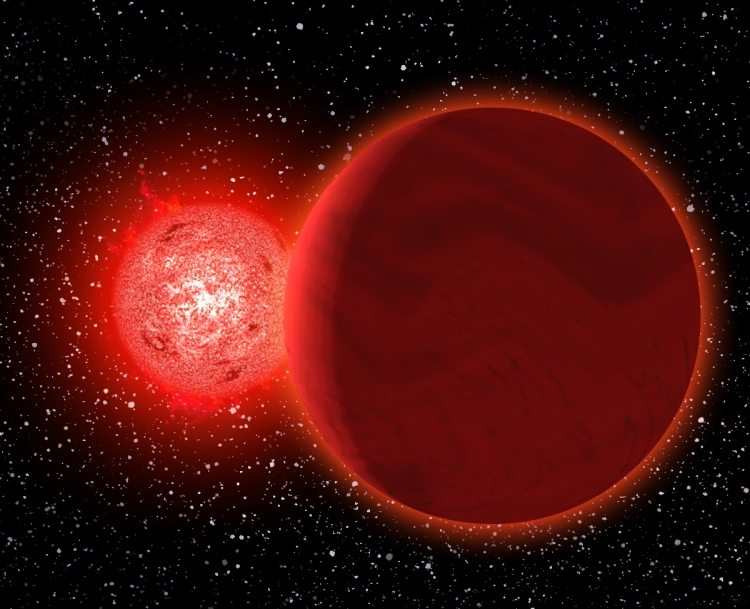 100,000 years ago, some of my ancestors came out of Africa and arrived in the Middle East. 50,000 years ago, some of them reached Asia. But between those dates, about 70,000 years ago, two stars passed through the outer reaches of the Solar System, where icy comets float in dark space!
One was a tiny red dwarf called Scholz's star. It's only 90 times as heavy as Jupiter. Right now it's 20 light years from us, so faint that it was discovered only in 2013, by Ralf-Dieter Scholz—an expert on nearby stars, high-velocity stars, and dwarf stars.
The other was a brown dwarf: a star so small that it doesn't produce energy by fusion. This one is only 65 times the mass of Jupiter, and it orbits its companion at a distance of 80 AU.
(An AU, or astronomical unit, is the distance between the Earth and the Sun.)
A team of scientists has just computed that while some of my ancestors were making their way to Asia, these stars passed about 0.8 light years from our Sun. That's not very close. But it's close enough to penetrate the large cloud of comets surrounding the Sun: the Oort cloud.
They say this event didn't affect the comets very much. But if it shook some comets loose from the Oort cloud, they would take about 2 million years to get here! So, they won't arrive for a long time.
At its closest approach, Scholz's star would have had an apparent magnitude of about 11.4. This is a bit too faint to see, even with binoculars. So, don't look for it myths and legends!
As usual, the paper that made this discovery is expensive in journals but free on the arXiv:
• Eric E. Mamajek, Scott A. Barenfeld, Valentin D. Ivanov, Alexei Y. Kniazev, Petri Vaisanen, Yuri Beletsky, Henri M. J. Boffin, The closest known flyby of a star to the Solar System.
It must be tough being a scientist named 'Boffin', especially in England! Here's a nice account of how the discovery was made:
• University of Rochester, A close call of 0.8 light years, 16 February 2015.
The brown dwarf companion to Scholz's star is a 'class T' star. What does that mean? It's pretty interesting. Let's look at an example just 7 light years from Earth!
Brown dwarfs
Thanks to some great new telescopes, astronomers have been learning about weather on brown dwarfs! It may look like this artist's picture. (It may not.)
Luhman 16 is a pair of brown dwarfs orbiting each other just 7 light years from us. The smaller one, Luhman 16B, is half covered by huge clouds. These clouds are hot—1200 °C—so they're probably made of sand, iron or salts. Some of them have been seen to disappear! Why? Maybe 'rain' is carrying this stuff further down into the star, where it melts.
So, we're learning more about something cool: the 'L/T transition'.
Brown dwarfs can't fuse ordinary hydrogen, but a lot of them fuse the isotope of hydrogen called deuterium that people use in H-bombs—at least until this runs out. The atmosphere of a hot brown dwarf is similar to that of a sunspot: it contains molecular hydrogen, carbon monoxide and water vapor. This is called a class M brown dwarf.
But as they run out of fuel, they cool down. The cooler class L brown dwarfs have clouds! But the even cooler class T brown dwarfs do not. Why not?
This is the mystery we may be starting to understand: the clouds may rain down, with material moving deeper into the star! Luhman 16B is right near the L/T transition, and we seem to be watching how the clouds can disappear as a brown dwarf cools. (Its larger companion, Luhman 16A, is firmly in class L.)
Finally, as brown dwarfs cool below 300 °C, astronomers expect that ice clouds start to form: first water ice, and eventually ammonia ice. These are the class Y brown dwarfs. Wouldn't that be neat to see? A star with icy clouds!
Could there be life on some of these stars?
Caroline Morley regularly blogs about astronomy. If you want to know more about weather on Luhman 16B, try this:
• Caroline Morley, Swirling, patchy clouds on a teenage brown dwarf, 28 February 2012.
She doesn't like how people call brown dwarfs "failed stars". I agree! It's like calling a horse a "failed giraffe".
For more, try:
• Brown dwarfs, Scholarpedia.